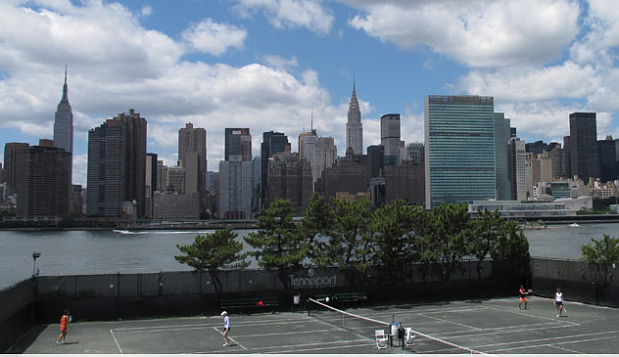 Given the void of local news, now is a good opportunity to get out the time machine and take a look back at the recent past of LIC.  In lieu of a time machine, we're going to use another contraption called Google.  It has unearthed a gem of an article from New York Magazine written back in August of 1980, titled "The Next Neighborhood: Long Island City."
It didn't quite work according to plan, and the timing was off by over 20 years, but the two constants throughout all the fits and starts and hopes and dreams, were the convenience to midtown and the views.  These had long captured (and enraptured) the attention of every wanna-be developer.  As we now know, it was going to take a lot more than a small-time push to open up the waterfront1, but the inevitability of it was just as real back in 1980.
Nevertheless, the dreamers put forth their plans, including a two-tower waterfront complex with 80 condo units in each (how quaint!), and a Queens Performing Arts Center (QPAC) with multiple auditoriums, one of which would have the capacity for 5,000 people.  Alas, while these two blueprints never came to fruition, the third idea mentioned actually did: a floating restaurant, aka Water's Edge.  How ironic that just last week came plans to develop this lot and an adjacent one into two towers containing as many as 1,000 apartments.
One of the main characters profiled in the article, is Freddie Botur, the founder of Tennisport, who had started his tennis center six years prior.  Even back then, he was both a historian and a visionary of the waterfront, as well as a pioneer.  I can't help to think how different (better?) Hunters Point would be had the city allowed it to remain.
Other interesting neighborhood joints mentioned were:
Exile – a punk rock club and discoteque
Prudenti's Vicin-o-Mare – a restaurant housed in the former Queens County Bank building on 2nd Street, which I believe was located kitty-corner to the Waterfront Crabhouse space.  Where supposedly Henry Hill and Jimmy Burke of Goodfellas fame, filled in John Gotti about their proposed 1978 Lufthansa heist at JFK.
Blessinger's – the corner bar where Station LIC is now, and where seven years later the movie Cocktail with Tom Cruise would be filmed.  Back in 1980, a beer here was 30 cents.
Project Studios One – now the museum MoMA PS1, but previously provided cheap loft space for artists for 1-2 year periods.  Eventually, some of the artists whose term at PS1 had expired, formed a co-op nearby to stay in the neighborhood.  Between them and other cast-offs, it's what formed the beginning of LIC as an artists enclave.  Yet even back then, many of them were worried about the effects of gentrification on their ability to stay.  As were many of the local non-artist residents.  A continuing theme throughout our recent history.
It's going to be cold out this weekend, so sit back, make a cup of tea and get your afghan out, and be transported back to another era in…
The Next Neighborhood: Long Island City – written in 1980
Queens County Bank Building Photo – former home of Prudenti's Vicin-o-Mare
Citywide Ferry Service Could Be in Service by June 2017 – Astoria/LIC North etc.
CB2 Gives Thumbs Down to YMCA's 17-Story Hotel Plan – the vote was unanimous
LIC Group Fights to Save Historic Elks Building – built in 1914 and slated to be 74 units of residential bliss
M. Wells Gang Slated to Finally Open Dutch Kills Locale Next Month – plus they'll be reducing the days the steak house is open from Thur-Sat
Samuel Clarkson Returns to Action on April 9 in LIC – Who's Samuel Clarkson?  Who cares?  It doesn't get more throwback than this in the 5-Star Diner's Boxing Series.  Put on your gold chain, fire up a stogie and pretend it's 1980 again
solely due to the need to have the area rezoned, which only a big developer had the clout to do [↩]